Thomas G. Rebar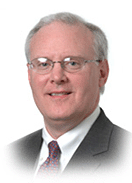 Tom is a partner of SCP and has been with the firm since its inception. He has over 18 years of experience in private equity, investment banking, mergers and acquisitions, and leveraged buyout financing.

Tom is a director of several companies, including Magnolia Broadband, Vis.align, LLC, and Pentech Financial Services, Inc.

Prior to joining SCP, Tom was a Senior Vice President at Charterhouse Inc., the U.S. investment banking arm of Charterhouse PLC, a leading U.K. merchant bank. At Charterhouse, he was responsible for a broad range of domestic and cross-border transactions including representing companies in the purchase and sale of businesses, rendering fairness opinions and business valuations, assisting companies in raising debt capital, and the placement of private equity.

Before joining Charterhouse, Tom was a member of the corporate finance department at Bankers Trust Company. Tom received his B.S. summa cum laude from the University of Scranton and his M.B.A. from New York University Graduate School of Business Administration.






Home | Our Philosophy | Our Investment Strategy and Focus Areas | The SCP Team
Our Portfolio | SCP News | Contact Us |Submit a Business Plan
© 2007 SCP Partners. All Rights Reserved.





Thomas G. Rebar

Winston J. Churchill
Wayne B. Weisman
Yaron Eitan
Roger Carolin
Robert G. Yablunsky
Richard L. Sherman
John M. Keane
Jim Evans
Charles C. Freyer
Dennis P. Ferry
Danielle Kelly
Revital Hirsch
Ehud Barak