General John M. Keane (Ret'd)
Venture Partner
Retired Four Star General and Former Vice Chief of Staff, the United States Army
General Keane, a four-star general, completed 37 years of public service in December 2003, culminating in his appointment as acting Chief of Staff and Vice Chief of Staff of the US Army. He is the president of GSI Consulting, serves as chairman of the Institute for the Study of War and the Knollwood Foundation, is a director of MetLife, General Dynamics, the Center for Strategic and Budgetary Assessments, the Smith Richardson Foundation, and a former and recent member, for 9 years, of the Secretary of Defense Policy Board. General Keane is also a trustee of Fordham University, the George C. Marshall Foundation and an advisor to two foundations assisting our veterans: Welcome Back Veterans and American Corporate Partners. He serves as a national security analyst for Fox News and speaks throughout the country on national security and leadership.
General Keane graduated from Fordham University with a Bachelor of Science degree and received a Master of Arts degree from Western Kentucky University. He is a graduate of the Army War College and the Command and General Staff College.


Home | Our Philosophy | Our Investment Strategy and Focus Areas | The SCP Team
Our Portfolio | SCP News | Contact Us | Submit a Business Plan
© 2007 SCP Partners. All Rights Reserved.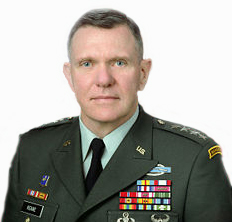 General John M. Keane

Winston J. Churchill
Wayne B. Weisman
Thomas G. Rebar
Yaron Eitan
Roger Carolin
Robert G. Yablunsky
Richard L. Sherman
Jim Evans
Charles C. Freyer
Dennis P. Ferry
Danielle Kelly
Revital Hirsch
Ehud Barak