Dennis P. Ferry
Dennis has been with SCP since November of 2000 and serves as the fund's Chief Financial Officer.

Prior to joining SCP, he was a manager in the Accounting and Auditing Department of Mathieson Aitken Jemison, LLP, a regional public accounting firm where he primarily served privately held companies in the distribution, manufacturing, architectural, and construction industries on a wide variety of engagements.

In addition, he has extensive experience in corporate, partnership, and individual tax compliance.

Dennis received a B.S. from Pennsylvania State University in Management and a Post-baccalaureate degree from Philadelphia University in Accounting.

He is a member of the American Institute of Certified Public Accountants (AICPA) and the Pennsylvania Institute of Certified Public Accountants (PICPA).

He is also a founding board member of the Philadelphia Chapter of the Private Equity CFO Association.




Home | Our Philosophy | Our Investment Strategy and Focus Areas | The SCP Team
Our Portfolio | SCP News | Contact Us |Submit a Business Plan
© 2007 SCP Partners. All Rights Reserved.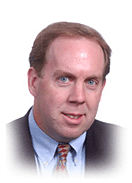 Dennis P. Ferry

Winston J. Churchill
Wayne B. Weisman
Thomas G. Rebar
Yaron Eitan
Roger Carolin
Robert G. Yablunsky
Richard L. Sherman
John M. Keane
Jim Evans
Charles C. Freyer
Danielle Kelly
Revital Hirsch
Ehud Barak